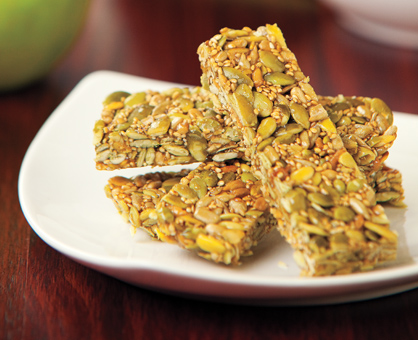 Prep: 15 minutes plus cooling and chilling
Cook: 12 minutes • Makes: 16 bars

Gluten-free nonstick cooking spray
1/3 cup sesame seeds
1/3 cup honey
1/3 cup packed light brown sugar
1 cup roasted, salted shelled pumpkin seeds
1/3 cup roasted, salted shelled sunflower seeds

1. Spray 8 x 8-inch glass or metal baking pan with nonstick cooking spray. Line baking pan with parchment paper or nonstick aluminum foil so that paper or foil extends about 2 inches over opposite sides of pan.
2. In large nonstick skillet, cook sesame seeds over medium-low heat 8 to 10 minutes or until lightly toasted, stirring occasionally to prevent burning. Transfer sesame seeds to plate.
3. In medium saucepan, stir together honey and sugar. Cook over medium-low heat 4 to 5 minutes or until mixture simmers and sugar is dissolved, stirring occasionally with rubber spatula. Remove saucepan from heat; stir in seeds. With rubber spatula, immediately spread seed mixture evenly in prepared pan. Cool 1 hour at room temperature.

Approximate nutritional values per serving (1 bar): 108 Calories, 5g Fat (1g Saturated), 0mg Cholesterol, 73mg Sodium, 12g Carbohydrates, 1g Fiber, 4g Protein

ChefTip

To transport bars, wrap in parchment paper or nonstick aluminum foil.