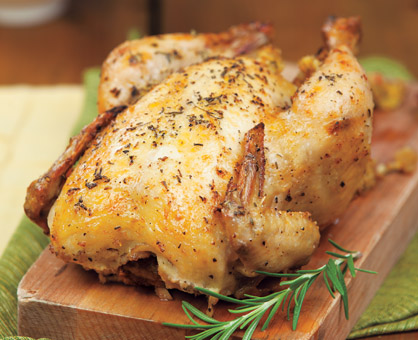 Roasted Chicken with Orange-Pineapple Sauce
Prep: 15 minutes
Cook: 35 minutes • Serves: 6
2/3 (6-ounce) box stuffing mix for chicken
1 fresh fryer chicken (about 3-4 pounds), thawed if necessary
1/2 teaspoon salt
1/2 teaspoon ground black pepper
1/4 teaspoon garlic powder
1 teaspoon chopped fresh rosemary leaves plus additional sprigs (optional)
1 tablespoon unsalted butter, melted
1/2 medium orange, cut into wedges (optional)
1 can (8 ounces) crushed pineapple in juice
2/3 cup orange marmalade

1. Preheat oven to 400°. Prepare stuffing as label directs. Remove and discard giblets and neck from chicken. Trim excess fat.

2. Sprinkle inside cavity of chicken with 1/4 teaspoon salt, 1/4 teaspoon pepper and garlic powder; evenly fill cavity with prepared stuffing. Sprinkle outside of chicken with remaining 1/4 teaspoon each salt and pepper, and rosemary. Place chicken in roasting pan; brush chicken with butter.

3. Roast 50 minutes to 1 hour or until thermometer inserted into thickest part of thigh and center of stuffing reaches 165°. Add rosemary sprigs and orange wedges to roasting pan during last 15 minutes of roasting, if desired. Transfer chicken to cutting board and loosely tent with aluminum foil; let stand 10 minutes.

4. Meanwhile, in small saucepot, heat crushed pineapple with juice and orange marmalade to simmering over medium heat. Simmer 3 to 5 minutes or until mixture thickens slightly, stirring occasionally.

5. To serve, with spoon, scoop stuffing from cavity and transfer to serving bowl; cut chicken lengthwise in half. Serve with Orange-Pineapple Sauce.


Approximate nutritional values per serving:
824 Calories, 32g Fat (10g Saturated), 200mg Cholesterol,
941mg Sodium, 65g Carbohydrates, 1g Fiber, 63g Protein