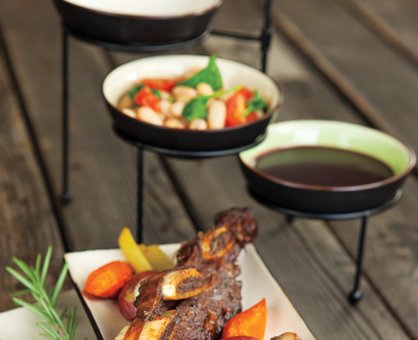 Prep: 10 minutes
Cook: 2 hours • Serves: 6

1-1/2 cups dry cannellini beans
1 tablespoon olive oil
5 garlic cloves, chopped (1-1/2 tablespoons)
1/2 teaspoon cayenne pepper
1 pint grape tomatoes, each cut lengthwise in half
2 packages (5 ounces each) baby spinach (about 8 cups packed)
3 tablespoons red wine vinegar
3/4 teaspoon salt
3/4 teaspoon ground black pepper

1. In colander, rinse beans with cold water; discard any shriveled beans. In large saucepot, add beans and 6 cups hot water. Heat to boiling over high heat; boil 2 minutes. Remove saucepot from heat; cover and let stand 1 hour. Drain beans in colander; rinse and drain again.
2. In same saucepot, add beans and enough hot water to cover beans by 2 inches. Partially cover and heat beans to simmering over medium to medium-low heat. Gently simmer beans 1-1/2 to 2 hours or until desired tenderness; drain.
3. In separate large saucepot, heat oil over medium heat 1 minute. Add garlic and cayenne pepper, and cook 30 seconds, stirring frequently. Add tomatoes and cook 2 minutes, stirring occasionally. Fold in beans and cook 2 to 3 minutes or until heated through, gently stirring occasionally. Stir in spinach; cover and cook 1 to 2 minutes or just until spinach wilts, stirring occasionally. Stir in vinegar, salt and pepper.

Approximate nutritional values per serving: 122 Calories,
2g Fat (1g Saturated), 0mg Cholesterol, 299mg Sodium,
20g Carbohydrates, 4g Fiber, 6g Protein