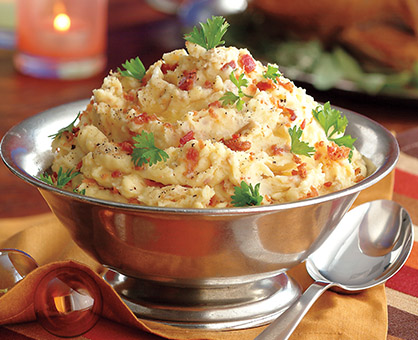 Mashed Potatoes with Bacon & Cheddar
Prep: 25 minutes
Cook: 25 minutes • Serves: 8

3 pounds Yukon gold potatoes (about 8 medium), unpeeled and cut into 2-inch chunks
1 container (8 ounces) sour cream
1/2 cup unsalted butter (1 stick), cut into small pieces
1 teaspoon salt
8 teaspoon ground black pepper
1 package (8 ounces) shredded Cheddar cheese (2 cups)
1 package (2.1 ounces) fully cooked bacon, coarsely chopped Fresh parsley leaves for garnish (optional)

1. In large covered saucepot, add potatoes and enough salted water to cover; heat to boiling over high heat. Simmer, uncovered, 15 minutes or until potatoes are fork-tender.

2. Drain potatoes well, then return to saucepot. Add sour cream, butter, salt and pepper. With hand mixer at medium-low speed, beat potatoes 2 to 3 minutes or until light and fluffy and few lumps remain; do not overmix. Fold in cheese and bacon. Garnish with parsley, if desired.

Approximate nutritional values per serving:
460 Calories, 30g Fat (18g Saturated),
80mg Cholesterol, 588mg Sodium,
32g Carbohydrates, 2g Fiber, 14g Protein

Chef Tip

To avoid lumps, do not allow cooked potatoes to cool before preparing mashed potatoes.
Mix-in ideas: fresh herbs such as parsley or rosemary; chopped green onions.