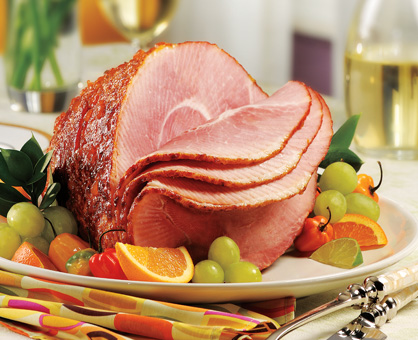 Pepper-Peach Glazed Ham
Prep: 5 minutes plus standing
Bake: 1 hour 45 minutes • Serves: 12
1 (7- to 8-pound) spiral sliced bone-in half ham
1 jar (8 ounces) hot pepper jelly
1 cup peach preserves
1/4 cup apple cider vinegar
1/4 cup Dijon mustard
1/4 cup packed light brown sugar
2 tablespoons finely chopped fresh sage leaves
1. Preheat oven to 325°. Place ham, cut side down, on rack in large roasting pan. Bake ham 1 hour or until internal temperature reaches 90°.

2. Meanwhile, in small saucepan, heat jelly, preserves, vinegar, mustard, brown sugar and sage to simmering over medium heat, stirring occasionally. Remove saucepan from heat.

3. Remove ham from oven. With sharp knife, lightly score outside of ham, making parallel ½-inch-deep incisions in crosshatch pattern. Brush ham with some of the glaze; return ham to oven. Bake 45 minutes longer or until internal temperature reaches 130°, brushing ham every 15 minutes with glaze. Carefully place ham on serving platter. Cover loosely with foil and let stand 15 minutes before serving. Internal temperature will rise to 140° upon standing.

4. Pour any drippings in roasting pan into same saucepan with any remaining glaze; heat to simmering over medium-high heat. Simmer 8 to 10 minutes or until sauce is reduced to about 2 cups. Serve ham with sauce.

Approximate nutritional values per serving:
538 Calories, 24g Fat (8g Saturated), 147mg Cholesterol,
2611mg Sodium, 40g Carbohydrates, 0g Fiber, 46g Protein