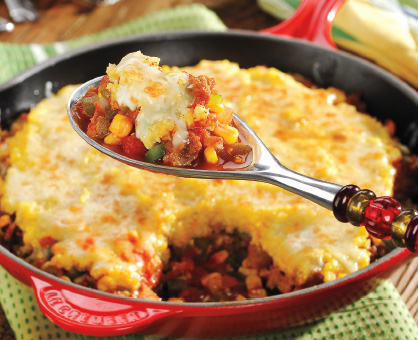 Tamale Skillet Bake
Prep: 30 minutes
Bake: 15 minutes • Serves: 6
1 tablespoon olive oil
1 medium green bell pepper, diced (about 3/4 cup)
1 medium yellow onion, diced (about 1-1/2 cups)
2 garlic cloves, minced
2 teaspoons chili powder
1 pound ground beef or pork
1 jar (16 ounces) hot or medium chunky salsa
1 cup frozen corn
1 cup water
1 package (8.5 ounces) cornbread mix
1 cup shredded Colby-Monterey Jack cheese blend

1. Preheat oven to 400°. In large oven-safe skillet, heat oil over medium-high heat. Add bell pepper and onion; cook 5 minutes, stirring occasionally. Add garlic and chili powder; cook 1 minute, stirring frequently. Add beef; cook 7 to 8 minutes or until beef is no longer pink.

2. Stir in salsa, corn and water; heat to boiling. Reduce heat to low; cook 10 minutes, stirring occasionally.

3. Meanwhile, prepare cornbread mix according to package directions, adding 1/4 cup additional milk; stir in 1/2 cup cheese.

4. Spread cornbread mixture evenly over beef mixture in skillet. Bake 15 minutes or until cornbread is cooked through, sprinkling with remaining 1/2 cup cheese during last 5 minutes of baking.

Approximate nutritional values per serving:
452 Calories, 24g Fat (8g Saturated),
88mg Cholesterol, 847mg Sodium,
43g Carbohydrates, 5g Fiber, 16g Protein