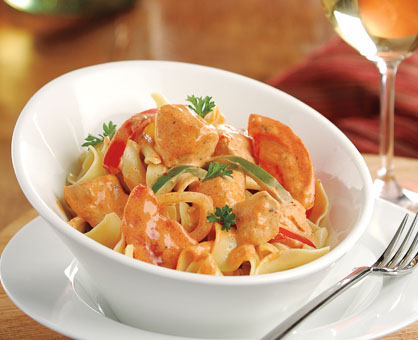 Chicken Paprikash
Prep: 20 minutes
Cook: 5 hours 45 minutes • Serves: 4
2 pounds boneless, skinless chicken thighs, trimmed and cut into 1-inch chunks
1 can (14 ounces) less-sodium chicken broth (1-3/4 cups)
2 garlic cloves, finely chopped
1 green bell pepper, sliced
1 medium yellow onion, sliced
2 tablespoons paprika
2 teaspoons salt
1/2 teaspoon ground black pepper
1/8 teaspoon cayenne pepper
4-1/2 cups wide egg noodles (about 8 ounces)
1 cup sour cream
3 tablespoons all-purpose flour
2 medium tomatoes, each cut into 1-inch chunks (about 3 cups)
1 red bell pepper, sliced
Chopped fresh parsley (optional)
1. In 5- to 6-quart slow cooker, combine chicken, broth, garlic, half of the green bell pepper, onion, paprika, salt, black pepper and cayenne pepper. Cover and cook on low 5-1/2 hours or on high 2-1/2 hours.

2. Meanwhile, about 30 minutes before paprikash is done, prepare noodles as label directs; drain.

3. In small bowl, stir together sour cream and flour, and stir into slow cooker. Increase heat to high, cover and cook 5 minutes. Stir in tomatoes, red bell pepper and remaining half of the green bell pepper; cover and cook 10 minutes longer. Serve chicken paprikash over noodles. Sprinkle with chopped parsley, if desired.
Approximate nutritional values per serving:
561 Calories, 22g Fat (10g Saturated), 217mg Cholesterol,
1510mg Sodium, 45g Carbohydrates, 4g Fiber, 47g Protein