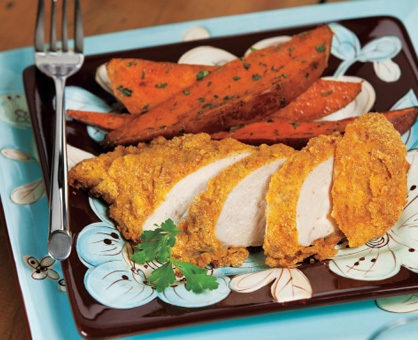 Oven–Fried Honey–Dijon Chicken
Prep: 10 minutes • Bake: 20 minutes • Serves: 6

Nonstick cooking spray
3/4 cup yellow cornmeal
1/2 cup whole wheat flour
1 tablespoon Old Bay seasoning
1 teaspoon dried basil
1 teaspoon dried oregano
1/2 teaspoon salt
1/2 small red onion, finely chopped (about 1/4 cup)
1/2 cup Dijon mustard
1/2 cup honey
1 tablespoon fresh lemon juice
6 boneless, skinless chicken breasts (about 6 ounces each)
1. Preheat oven to 425°. Spray rimmed baking pan with nonstick cooking spray.

2. In large zip-top plastic bag, combine cornmeal, flour, Old Bay seasoning, basil, oregano and salt. Seal bag and shake until well combined. In medium bowl, whisk together onion, Dijon mustard, honey and lemon juice.

3. Dip 2 chicken breasts into mustard-honey mixture to coat, then place in bag with cornmeal mixture. Seal bag, pressing out excess air. Shake bag to evenly coat chicken; transfer chicken to prepared pan. Repeat with remaining chicken, mustard-honey mixture and cornmeal mixture. Lightly spray top of chicken breasts with nonstick cooking spray.

4. Bake chicken 20 to 25 minutes or until internal temperature reaches 165°.

Approximate nutritional values per serving: 351 Calories, 3g Fat (8% of total calories), 1g Saturated (3% of total calories), 79mg Cholesterol, 552mg Sodium, 46g Carbohydrates, 3g Fiber, 35g Protein

Dietary Exchanges: 3 Starch; 5 Protein; 1 Fat