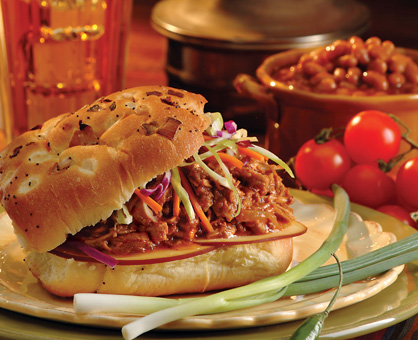 Smoky BBQ Pork Sandwiches
Prep: 40 minutes
Cook: 7 hours 30 minutes • Serves: 10

2 garlic cloves, minced
1/4 cup packed light brown sugar
4 teaspoons chili powder
1 teaspoon ground coriander
1/2 teaspoon cayenne pepper
1/2 teaspoon ground black pepper
1 (6-pound) bone-in pork blade roast, fat trimmed, cut into 1-inch pieces
2 medium yellow onions, thinly sliced
1 bottle (12 ounces) lager beer
2 cups barbeque sauce
10 onion buns
10 slices smoked Gouda cheese (optional)
1. In small bowl, combine garlic, brown sugar, chili powder, coriander, cayenne pepper and black pepper. Place pork and seasonings into slow-cooker bowl; stir to mix well. Add onions and pour in beer, making sure onions are submerged in liquid. Cover and cook on high 7 to 8 hours or until pork shreds easily.

2. Transfer pork to large bowl. With slotted spoon, remove onions to bowl with pork. With 2 forks, shred pork. Remove and discard all but ½ cup liquid remaining in slow-cooker bowl. Return pork and onions to slow cooker; stir in barbeque sauce. Cover and cook on high 30 minutes. Serve on onion buns with cheese, if desired.

Approximate nutritional values per serving:465 Calories,
26g Fat (9g Saturated), 91mg Cholesterol, 652mg Sodium,
28g Carbohydrates, 2g Fiber, 26g Protein
Chef Tip

For variety, top pork with a vinegar-based coleslaw.