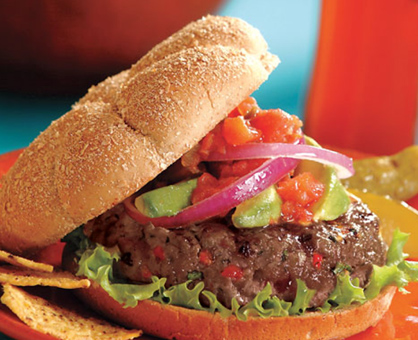 Southwest Burgers
Prep: 20 minutes • Grill: 8 minutes • Serves: 4

1-3/4 pounds lean ground round or ground sirloin
1 green onion, finely chopped
1 small jalapeño pepper, seeded and minced
1/4 red bell pepper, finely chopped
1 tablespoon fresh lime juice
1 tablespoon chopped fresh cilantro leaves
1 tablespoon olive oil
1 teaspoon minced garlic
1/2 teaspoon salt
4 whole wheat hamburger buns
Toppings: lettuce leaves, sliced ripe avocado, sliced red onion and/or refrigerated pico de gallo (optional)

1. Prepare outdoor grill for direct grilling over medium heat. In large bowl, gently mix beef, green onion, jalapeño, bell pepper, lime juice, cilantro herb blend, oil, garlic blend and salt until well blended but not overmixed. Form mixture into four 1/2-inch-thick patties.

2. Place burgers on hot grill rack; cover and cook 8 to 10 minutes or until internal temperature reaches 165°, turning once. About 2 minutes before burgers are done, place buns, cut side down, on grill. Cook 1 to 2 minutes or until lightly toasted. Serve burgers in buns with desired toppings.

Approximate nutritional values per serving: 310 Calories, 9g Fat (26% of total calories), 3g Saturated Fat (9% of total calories), 70mg Cholesterol, 503mg Sodium, 25g Carbohydrates, 3g Fiber, 29g Protein

Dietary Exchanges: 1-1/2 Starch; 4 Protein; 2 Fat
Chef Tip
Top burgers with sliced Monterey Jack cheese during last 2 minutes of grilling.