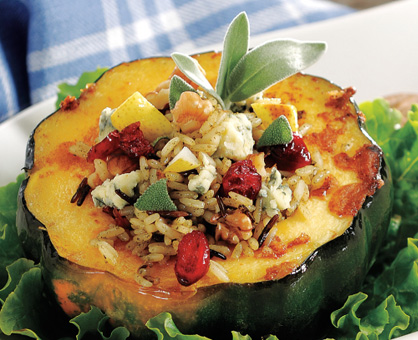 Wild Rice, Pear & Gorgonzola
Stuffed Acorn Squash
Prep: 20 minutes • Bake: 55 minutes • Serves: 6
3 medium acorn squash (about 1-1/2 pounds each)
1 medium fennel bulb, trimmed and cut into 1-1/2-inch pieces (about 2 cups)
1 package (6 ounces) long grain & wild rice mix
1/4 cup dried cranberries
1 large red Anjou or Bosc pear, cored and cut into 1-1/2-inch pieces (about 1-1/2 cups)
1/2 cup shelled walnuts
1/4 cup crumbled Gorgonzola cheese
3 tablespoons chopped fresh sage leaves (about 10 leaves)
1/4 teaspoon salt
1/8 teaspoon ground black pepper
1. Preheat oven to 375°. Cut each squash crosswise in half; remove and discard seeds. Place squash, cavity side down, on rimmed baking pan. Bake 25 minutes; add fennel to pan with squash and bake 20 minutes longer or until squash and fennel are tender. Turn squash cavity side up.

2. Meanwhile, prepare rice as label directs, adding cranberries during last 5 minutes of cooking. Fold fennel and remaining ingredients into rice mixture. Fill squash cavities with rice mixture and bake 10 minutes.

Approximate nutritional values per serving: 328 Calories, 10g Fat (27% of total calories), 2g Saturated Fat (5% of total calories), 8mg Cholesterol, 521mg Sodium, 57g Carbohydrates, 7g Fiber, 9g Protein

Dietary Exchanges: 3-1/2 Starch; 1 Protein; 1-1/2 Fat
Chef Tip
Squash can be stuffed with rice mixture and refrigerated 1 day in advance, then baked at 325° for 15 to 20 minutes or until heated through.